Wedding Dress Code- What Makes You Stand Out of the Crowd?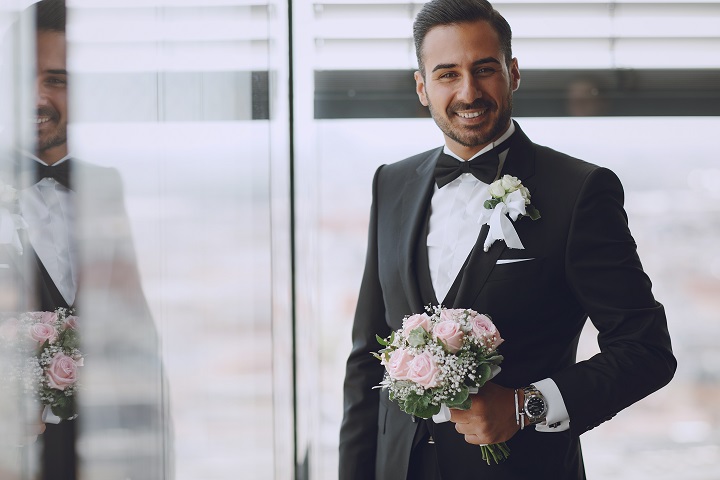 Weddings are joyous occasions that bring together friends and family to celebrate love and commitment. However, it can take time to figure out what to wear with many different types of weddings and dress codes. The wedding dress code is an essential part of the invitation, and it's crucial to follow it appropriately to avoid any fashion faux pas. Some men wear traditional tuxedos; some wear simple suits and custom shirts.
At a wedding, the dress code's specification occurs on the invitation, and it's essential to understand what each dress code means. While some dress codes are relatively straightforward, others can be more complicated. This guide will discuss the most common wedding dress codes and what they mean.
A casual dress code is the most relaxed dress code for weddings. It is typically ideal for daytime or outdoor weddings, where the atmosphere is more informal. A pair of dress pants or khakis and a collared shirt are appropriate for men. Ties and jackets are optional and loafers or dress shoes are ideal.
Cocktail Attire Dress Code
A cocktail attire dress code is the most common dress code for weddings. It's typically used for evening weddings, requiring a dress or suit for women, a suit or blazer and dress pants for men. A tuxedo for a wedding can be an excellent option for those who want to add a touch of elegance to their outfit. Black or midnight blue tuxedos paired with white dress shirts, black bow ties and black dress shoes impart a classic and sophisticated look that will make any man look sharp and stylish.
A semi-formal dress code is slightly more formal than cocktail attire and is suitable for evening weddings. A dark suit is ideal for men and a tuxedo is acceptable. If you opt for tuxedos, keep it classic with dark colored options like black.
Black Tie Optional Dress Code
A black-tie optional dress code is a "step up" from semi-formal attire and is ideal for evening weddings. This dress code is more formal, requiring a tuxedo or dark suit for men.
Colored Tuxedos: Instead of sticking to traditional black or midnight blue, consider opting for a colored tuxedo such as deep burgundy, forest green, or navy. These colors can add a stylish and modern twist to your formal attire.
Black Tie Dress Code
A black-tie dress code is the most formal dress code for weddings. White dress shirts, black bow ties and black dress shoes are essential for black-tie weddings. Keeping the look classic and elegant is important, so avoid flashy or trendy accessories.
Wearing Tuxedos the Right Way- Make the Wedding Memorable
Understanding the dress code for weddings is crucial to avoid any fashion mistakes. While there are several dress codes, the appropriate attire will depend on the time of day and the event's formality. When it comes to tuxedos, they are an excellent option for formal weddings and black-tie events.
Keep These Factors in Mind While Choosing Your Tuxedo
Perfect-Fit Is the Perfect Decision
When choosing a tuxedo, it's essential to ensure it fits well and is comfortable. A well-fitted tuxedo will make you look and feel confident and ensure you are comfortable throughout the wedding festivities. If you need more clarification about the fit or style of a tuxedo, it's always a good idea to consult with a professional stylist.
Accessories Are the Cherries on the Cake
Another critical aspect to consider when wearing a tuxedo is the accessories. Accessories can make or break a tuxedo look, so it's essential to choose them carefully. A black or midnight blue bow tie is the classic and traditional option for a tuxedo and it's a safe choice for most weddings. However, if you want to add some personality to your look, you can opt for a colored or patterned bow tie, as long as it's not too flashy or distracting.
Put the Sprinkle on the Cake
Other accessories to consider when wearing a tuxedo include cufflinks, pocket squares and dress shoes. Cufflinks can add a touch of sophistication and elegance to your tuxedo look and they come in various styles and designs to suit your taste. Pocket squares are another great accessory that can add some color and personality to your tuxedo and they're a great way to showcase your style. When it comes to dress shoes, black leather dress shoes are the classic and traditional option for a tuxedo, and they're a safe choice for most weddings.
Have the Best Fitted Tuxedo in No Time
If you have an eye on the quality tuxedos in OKC, Allton's Clothiers is the name you should keep in mind. Our skilled and experienced tailors will make your custom-made tuxedo just the way you want. We never compromise on comfort while maintaining your style and preferences.