Want a Custom Suit? Follow These Effective Tricks
Regarding formal wear, a custom suit is an ultimate luxury. It fits perfectly and makes you feel confident. That's why the demand for purchasing suits for occasions has increased. There is no doubt that buying a custom suit is an investment in your style. While ready-made suits are much more affordable, without perfect fittings and unique details, they look bland compared to custom-made suits.
With customization, you can choose every aspect of the cloth, from the fabric and color to the style and fit. But buying a custom suit can be a daunting task. It is especially true when you are not familiar with the overall procedure. In this complete guide, we have discussed the steps of buying a custom suit, from finding a reputable tailor to choosing the suitable fabric and style.
A. Quality First, Quantity Later
Undeniably, quality comes over quantity, none better than in the fashion world. So, invest in suitable quality fabrics; that's the first rule of thumb. A custom suit made with quality garments should not only allure the crowd but also last longer and feel great on your skin. Please don't fall into the mass-marketed hyped-up cheap clothes; they fall apart soon and don't wear well as much.
B. A Fantastic Fit
Think of custom suits like hand-tooled machine parts. With any slight change in the body, they won't fit right and destabilize the whole ensemble. The same is true about suits; if you lose or gain 20 pounds, your suit will no longer suit you. Keeping that in mind, a custom suit maker in OKC will take a lot of measurements, sometimes up to 40, to ensure that your bespoke garment fits every curve of your body just right.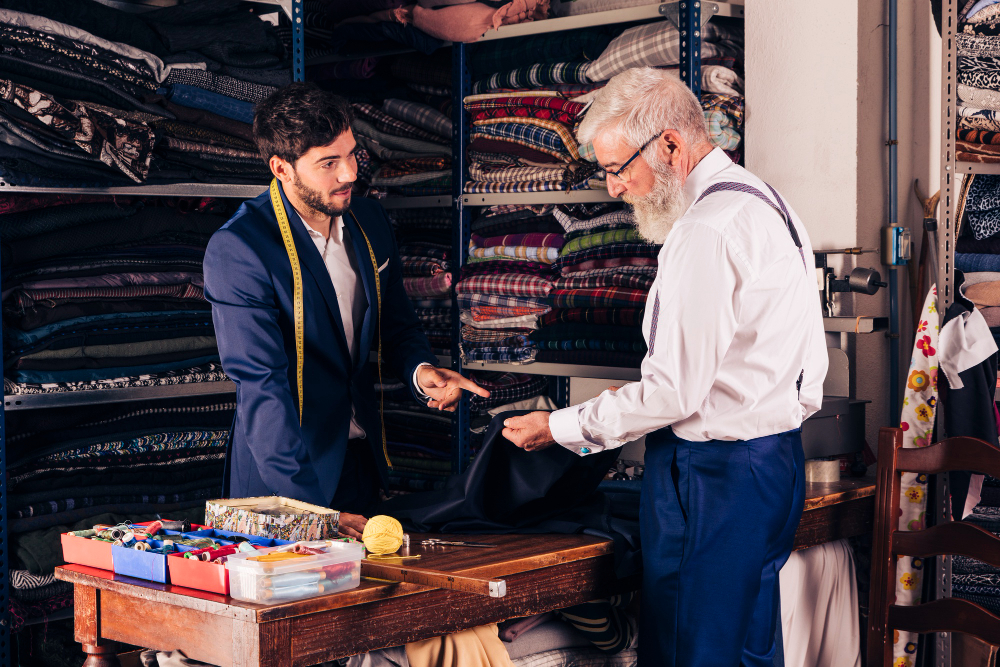 A well-fitted suit can enhance your appearance, confidence, and comfort. Your tailor will take precise measurements of your body to ensure the suit fits you like a second skin. They will consider the length, width, and depth of your shoulders, chest, waist, hips, arms, and legs to create a suit that flatters your body shape and proportions. You can also customize the fit of your suit based on your personal preferences, such as slim, regular, or relaxed fit.
C. Mind the Details
In addition to the fabric and fit, you can also customize the details of your custom suit. This includes the lapel style, collar, cuffs, pockets, buttons, and lining. You can choose from various options, such as a notched or peaked lapel, a single or double-breasted jacket, a ticket or flap pocket, and a contrasting or matching lining. These details can enhance the look and feel of your suit and reflect your personality and taste.
D. Take Care of Your Suit
A custom suit is a significant investment in your life, not only in money but also in other matters like your social status and confidence level. To that end, taking care of your investment is paramount. Learn about the best ways to clean and store a suit properly and do not forget to break it in a bit before you use it on a momentous occasion.
About cleaning the suit, dry cleaning is the best way, but the chemicals may wear out your suit over time. So, try not to get dirty in the first place. Brush off light dust after every wear and once in a while in storage. You should also use only precisely crafted wooden hangers to store a suit or else it would 'bend' the shape; or even crease it.
Take Professional Help
Mommy knows best, as we say to kids, so it is in the custom suits world. If you're not an expert in fashion, try not to choose custom shirts on your own. Instead, let your stylist go to work. A professional style manager has learned the ways of wearing formal clothing and how they look on different bodies.
Your measurements will also be handy here — different bodies look good in other suits. A girthy fellow may favor a bright style better than a slim person who looks sharper in a dark-colored fabric.
The suit's weight will also come into question — it is a matter of comfort as well as whether you can pull it off or not. If you have understood the difference between ready-made and custom ones and are ready to make the right decision, feel free to contact us at Allton's Clothiers.