These Combos of Dress Shoes Can Make You the Mr. Stylish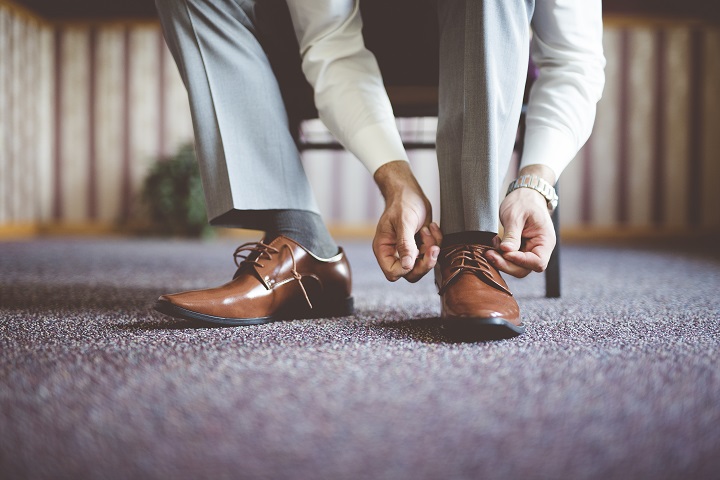 You're at the threshold of a unique fashion amalgamation where jeans' rough and ready aesthetic merges with the refined sophistication of dress shoes. It's a harmonious blend encompassing a fresh wave of men's fashion, offering versatility and style like never before. Think dress shoes can only team up with formal attire? Think again. With a pinch of creativity and a dash of daring, it's time to redefine men's dress shoes. Welcome to the world of reinvented fashion!
Adopting Corporate Casuals: Suit Jacket and Dress Shirt with Men's Dress Shoes
The corporate realm doesn't always need a flood of strict formal wear. When paired with jeans, dress shoes have the potential to rock the business casual look. Experience the ease of a dress shirt under a suit jacket for a classic yet contemporary flair. The contrast between the jeans and the dress shoes seamlessly highlights your sartorial sophistication.
After Work Elegance: Blazer and Crew Neck Shirt Ensemble
Paint the town red after sunset with a stylish fusion of a crew neck shirt, blazer and dress shoes. This ensemble lets you effortlessly transition from work to play, the relaxed vibe of the jeans balancing the formality of the men's dress shoes. This pairing strikes the right chord, offering a perfect balance of elegance and comfort.
The Dapper Demeanor: Smart Casuals with a Vest Over a Dress Shirt
When it's time to make a statement without uttering a word, opt for a vest over a dress shirt. Layer this combination with a pair of jeans and dress shoes to achieve that edgy yet polished appearance. This outfit sets the perfect stage for an important date night or a relaxed brunch with colleagues.
Style Burst: Pea Coat and Button Down Shirt Combination
Up your style quotient during the colder months with the unique blend of a pea coat, button-down shirt, jeans and men's shoes. This combo exudes an air of stylish nonchalance, portraying the wearer as someone with a firm grasp on fashion dynamics. It's about making an impression that lasts!
Daringly Different: Polo Shirt for a Chic Twist
Rev up your style engine with a combo that screams bold. A crisp polo shirt, jeans and dress shoes make for an appealing semi-casual outfit. With this look, dress shoes break away from their formal shell, demonstrating how fashion can blur boundaries.
Welcome the Breeze: Linen Shirt for Summer Soirees
When the summer heat is on, a linen shirt, jeans and dress shoes make for the perfect ensemble. This package combines linen's airy comfort with the classic charm of quality men's dress shoes. It's an outfit made for those laid-back OKC summer parties and beachside events.
The Fashion Faux Pas: Dodging Mistakes in Dress Shoes-Jeans Combo
Navigating the fashion world isn't always smooth sailing. There are faux pas to avoid while marrying dress shoes with jeans. Pairing overly distressed jeans with sophisticated dress shoes, for instance, can create a fashion imbalance. Similarly, ensure that the fit of your jeans complements the formality of your shoes. The key is ensuring a harmonious blend where every element is united.
The fusion of jeans and dress shoes for men is no longer a forbidden sartorial experiment. It's the canvas of modern fashion, allowing you to showcase your style. Consider this trend, and give your fashion game a new lease of life!
Talk of the Town Style with Allton's Clothiers
Ready to redefine your style? Allton's Clothiers is your one-stop destination for exceptional men's dress shoes in OKC. Explore our exquisite collection today and let your feet do the talking! Become a part of our style revolution because you're not just wearing fashion; you're wearing a statement!