The Dapper Gentleman's Guide: Men's Formal Outfits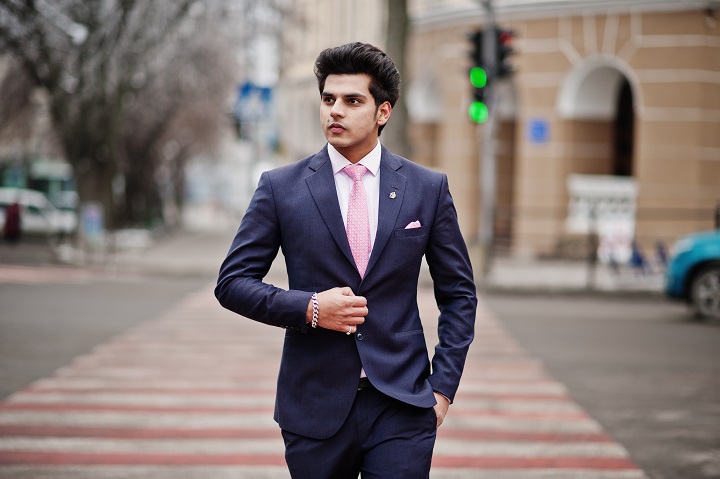 Whether for a special occasion or a professional setting, dressing up in a formal outfit can make you feel confident, stylish and poised. However, choosing the perfect formal wear can make you feel jittery.
With so many options, selecting the right suit, shirt, tie and shoes can be overwhelming.
"Dressed to impress, from head to shoe,
In men's formal wear, you look like you rule."
Discover the top tips for selecting your attire for the next formal occasion. Let's get started!
Delving into the Top Tips for Selecting Men's Formal Wear
Perfect Suit Fabrics for Perfect Occasion
When choosing the perfect suit fabric, it's essential to keep the occasion in mind. For example, you can opt for lightweight fabrics like cotton, linen or seersucker for a summer wedding. Wool is always a safe bet for formal winter events, providing a classic look.
Having a Clear Understanding of the Dress Code
Stay clear with the dress code. Understand the dress code to avoid any fashion faux pas. For instance, black-tie events call for a tuxedo, while business men's formal wear requires a suit and tie. Make sure you understand the dress code and adhere to it.
Keep Seasonal Preference in Mind
It's crucial to keep seasonal preferences in mind while selecting formal wear. You can choose darker shades and heavier fabrics like tweed or flannel for winter events, while summer events call for lighter colors and fabrics.
Investing in Quality Products
Investing in quality products is always a good idea as they last longer and provide better value for money. Quality products ensure your formal wear fits well, looks great and makes you feel confident.
Matching Shirt to Complement the Entire Ensemble
Wear a matching shirt to complement the entire ensemble. For example, a white shirt goes well with any suit, while a blue shirt looks great with a gray or navy suit.
Finding the Suitable Color
Finding a suitable color is vital when it comes to selecting formal wear. Navy blue, dark brown, black and gray are classic colors that never go out of fashion.
Never Forget to Accessorize
Accessorizing is the key to elevating your formal wear game. A pocket square, watch, socks and statement footwear can make all the difference.
Shoe Selection Must be Brilliant
Your shoe selection must be brilliant to complete the entire look. Black oxfords or dress shoes are a safe choice, while brown shoes can be versatile.
Never Compromise on Right Fitting
Always strive for the correct fitting; it can make or break your formal look. Make sure your suit fits you well and make alterations if necessary.
Choosing Different Styles & Patterns to Become a Showstopper on Every Occasion
For a cocktail party, opt for slim-fit men's formal wear in a lighter color, like gray or blue. You can also experiment with patterns like checks or stripes.
A classic black or navy blue suit is always a good choice for a wedding event. For a more formal look, you can also try a three-piece suit or a tuxedo.
Sticking to a classic suit is pivotal for a job interview. Avoid bright colors and patterns and keep it simple.
Attending Business Dinner
A business dinner requires a polished and sophisticated look. You can opt for a dark-colored gray or navy blue suit paired with a white shirt and a classic tie.
Matching Accessories Will Elevate Your Confidence
Adding a bright pocket square to your ensemble can instantly elevate your look and add a pop of color.
A classy watch not only looks great but also serves as a functional accessory. Opt for a classic leather strap watch or a metal bracelet watch.
Sometimes we tend to overlook socks, but they can make a big difference in your overall look. Invest in quality socks that complement your suit ensemble.
Statement footwear like loafers, brogues or monk straps can add a touch of personality to your formal wear.
Making a Flattering Entry with Proper Suit Fitting
Choosing a flattering style is crucial to ensuring your formal wear looks excellent on you. Experiment with different styles and cuts to find the one that suits your body type.
Make sure you get the correct measurements before purchasing a suit. It ensures a proper fit and makes alterations easier.
Proper tailoring can make all the difference in how your suit looks and fits. Invest in a good tailor to adjust your suit to ensure it fits you perfectly.
Choosing the appropriate quality fabric ensures your suit looks great and lasts longer. Investing in quality fabrics that can withstand wear and tear is always better.
Selecting the Excellent Color Option
Navy blue is a classic color that always stays in style when it comes to men's formal wear. It's versatile and can create a mind-blowing impression at any formal event.
Dark brown is a stylish and sophisticated color that looks great in winter.
Classic black suits are appropriate for formal weddings, black-tie events and business dinners.
Gray is a timeless color that provides a sophisticated and modern look. It's perfect for both formal and informal occasions.
Allton's Clothiers: Choose Your Impressive Ensemble from Us
Are you seeking the perfect men's formal wear in OKC for your next special occasion or professional event? Come to Allton's Clothiers' showroom or pay a visit to our website! Our Offering will surely turn your head.
Our team can help you find the perfect fit and style to make you look and feel confident. Keep browsing for more exclusive collections online!