Rules that Need to be Followed for Men's Suits
Do you love to wear suits? If you nodded yes, then you are just like all other men. The love for suits is a common similarity that all men share. This is because it can be worn on any occasion, whether for a wedding or a meeting. However, some people simply buy a suit off the rack and wear it occasionally.
This can be the worst decision of your life and also a 'suit-able' crime. It is important to get a suit that fits you perfectly. Just like this one, there are many other set rules of men's suits that they need to know about. Keep scrolling to learn about all those rules in detail.
Rules for the Top
Shirt Can't Be Too Loose- It is essential to remember the 'one-finger' rule about the shirt. It is too big for you if you can fit many fingers inside your collar. The shirt is perfect if you can only fit one finger between your neck and collar.
Lapels and Tie- Your tie and lapel need to complement each other. You can try to match the widest point of your tie with the widest point of your lapel. Sometimes you might find a different measurement, but a close one will work for all men's suits according to Oklahoma City experts.
V-Shape Neck- Long gone are those days when the undershirt used to poke out of the dress line of the neck. Men choose to wear V-neck shirts that aren't much visible.
Crisp Collar- This is the most important rule for all men's suits. The collar should be nicely ironed so it does not look flared out. Doesn't it disgust you to see men wearing a shirt like that?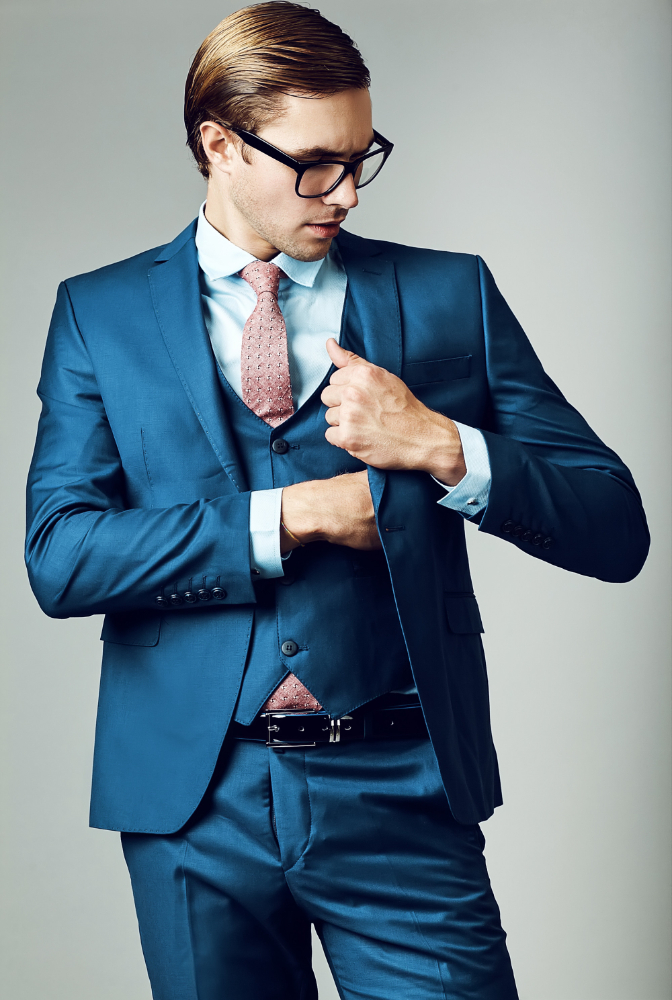 Rules for the Bottom
Don't Button the Bottom- Do you button the bottom of your jacket? Well, don't do that the next time. It does not look good; only the top button will make you look classy and elegant.
No Cuffed Pants, Please! – Cuffed pants were never a friend to short people. Other than that, cuff pants are simply out of fashion now and must be ditched. Pants around the ankles do not look good, and no men's suit should bear the look of that.
Pants Should Rest Above the Shoe- Now that we have discussed cuffed pants, let's talk about too-long pants. Pants should touch the shoe and not go beyond that. If your trouser needs a break, it is too short for you, and you must reconsider your choice.
Extra Pants- If you plan to wear your suit daily to the office, you must buy more than one pant for the set. You can tell our tailor to do this when stitching the entire suit all at once.
Rules for Accessories
Wise Watch- A watch can boost your look and make your attire aesthetic. Ensure that the watch is manageable for your wrist.
Invest in Shoes- To make the entire look attractive, you must wear good shoes. You should opt for classic styles like Oxford boots or Loafers to match men's suits.
Dress for the Occasion
Now that you know all about the rules of wearing suits, you can contact Allton's Clothier to get one. We have been in this business for over 27 years and are known for their commitment to quality and style.