Rent a Tux Like a Pro: Unveiling the Step-by-Step Guide
Wedding season is fast approaching and you will attend a wedding in Edmond. You've sorted out your gift and booked your accommodation, but there's one thing left to do: get your formalwear. Whether you're the groom, a groomsman or simply a guest, you want to look your best for the occasion. That's what pulls your attention toward a tuxedo rental in Edmond.
Tuxedos and suits in OKC and Edmond are the go-to attire for formal events, but only some people own one. If you're in this situation, fear not; rental services are here to save the day!
In this guide, we'll take you through renting a tuxedo, so you can look dashing and impress the crowd.
Choosing Your Preference (Online or In-Store Shopping?)
The first step in renting a tuxedo is deciding whether to shop online or in-store. Both options have their advantages and disadvantages.
If you're pressed for time or want to stay in the comfort of your home, online shopping is the way to go. Many tuxedo rental companies have online platforms where you can browse and select your preferred tuxedo style. You can also submit your measurements and have the tuxedo arriving at your doorstep.
However, you can visit a tuxedo rental store in Edmond if you prefer a more hands-on approach. In-store shopping allows you to see and touch the tuxedos, try them on and get professional advice from the staff. Additionally, in-store shopping can help you avoid fitting issues and ensure your tuxedo fits you perfectly.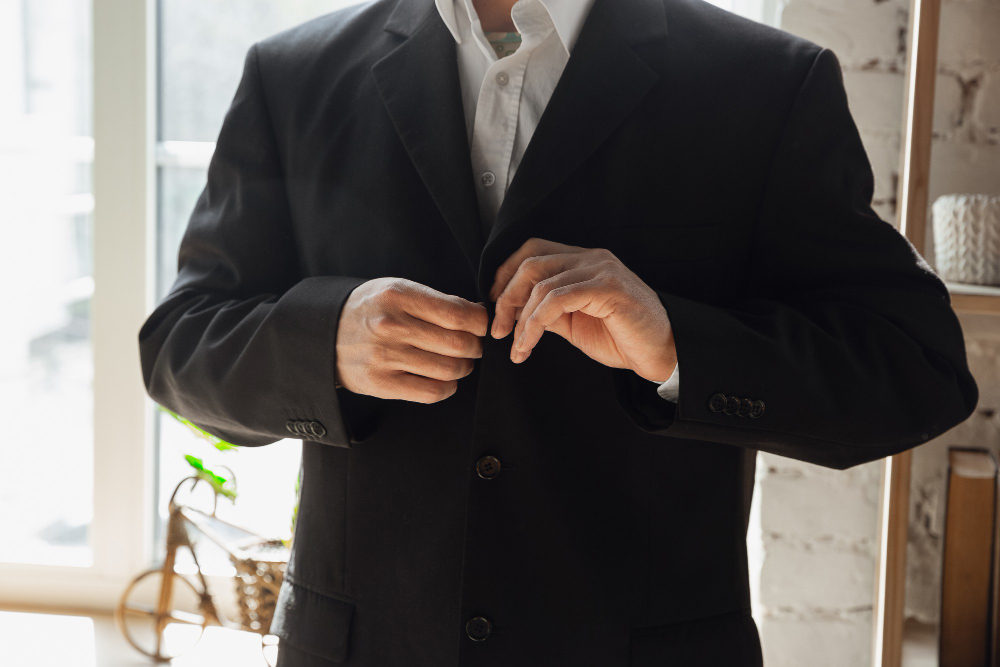 Style Selection Matters
The next step is to choose your tuxedo style. There are various tuxedo styles; your choice will depend on the occasion and your preferences. Classic black tuxedos are the most popular and are perfect for formal events like weddings. If you're attending a daytime event or a less formal occasion, you can opt for a light-colored tuxedo or a suit.
Focusing on Event Creation
When choosing your tuxedo, it's essential to consider the event's theme and dress code. You may need to match your tuxedo to the theme if you're attending a themed event. For instance, if it's a 1920s-themed wedding, you can opt for a vintage-style tuxedo with a bow tie and suspenders.
Here Comes the Measurement Time
Once you've selected your tuxedo style, it's time to get measured. Accurate measurements are crucial to ensuring that your tuxedo fits you perfectly. If you're renting online, many tuxedo rental companies have measurement guides on their websites to help you take your measurements accurately. If you're renting in-store, the staff will take measures for you.
Online Tuxedo Rental and Its Benefits
Online tuxedo rental has become increasingly popular due to its convenience and ease. Renting a tuxedo online allows you to browse and select your preferred style, submit your measurements and deliver the tuxedo to your doorstep. Additionally, online tuxedo rental companies offer a wide range of styles and sizes, ensuring you find the perfect fit for your body type.
Give It a Try and Return
Once your tuxedo has arrived, it's time to try it on and make any necessary adjustments. If the tuxedo doesn't fit correctly, you can return it for alterations or a replacement. After the event, return the tuxedo to the rental company. Some rental companies offer free returns, while others charge a fee. Make sure to read the rental agreement carefully to avoid any surprises.
Allton's Clothiers – Your One-Stop Shop for Tuxedo Rental
If you're looking for a tuxedo rental store in Edmond, look no further than Allton's Clothiers. With over 27 years of experience in the formalwear industry, Allton's Clothiers is the go-to destination for premium tuxedo rental in Edmond. Our knowledgeable and friendly staff will guide you throughout the rental process, ensuring you find the perfect tuxedo for your event.