Pick the Perfect Suit For Your Same-Sex Wedding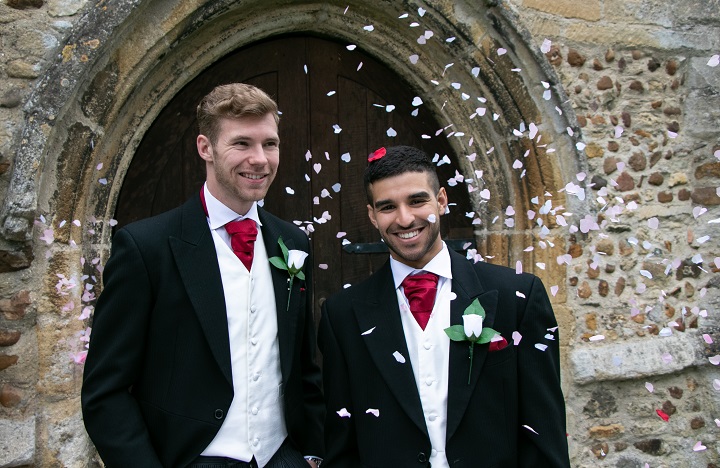 When you are planning your wedding, you have to go through many steps. Many things need to be decided, like the venue, the date of the wedding, selecting the right vendors, and many other things in Oklahoma City. Most of the time the wedding outfit is the last thing that the couple decides, but it is no doubt the most important one! When you have decided where you are going to get married, you can decide what kind of wedding suit will look good on your special day. All these rules also apply to a same-sex wedding. Wearing what makes you comfortable and elegant is the priority of that day.
What's Unique About Same-Sex Wedding?
You might be wondering about how same-sex wedding suits be different from a normal wedding. But in a same-sex wedding, there is no bride, so there are two men who have to look good yet different. Usually, at a wedding, the bride is the centre of attraction, but here you have a chance to design the suits according to each of your personalities so that you both can be the centre of attraction!
Choose a Theme
First, you have to choose a theme that can go with your looks and preferences. You can have matching suits if you want, or you can have similar shades or hues to make it look good. You can even keep the fabric the same and choose different colour suits for yourselves.
Choose a Season Appropriate Fabric
When choosing the suit, you have to keep in mind that you need to choose the fabric according to the weather. For example, you must make your suit with wool if you are getting married in the winter. Similarly, if you are choosing summer or spring, then fabric like cotton or linen can be the best option. These two fabrics can be worn all day long without making you feel hot or uncomfortable.
Get the Best Fit
It is known to all that the look of a suit depends on the fit. You can wear a scandalous dress, but if it fits you nicely and you walk out with confidence, then even that can be carried out with perfection. Make sure that your tailor takes your measurement correctly so that there are no last-minute issues with your suit.
Accessorize to Get the Glam
You can add a bow tie or pocket square to make your look more appealing and elegant. You can also add cufflinks or a funky watch to complete your attire.
Get It Tailor Made
If you want to look elegant and different on your wedding day but don't know where to get your suit from, then you can definitely give Allton's Clothier a look. They have the perfect suit options for you. Come and check it out today!