Men's Shoes That Go with Everything: A Guide to Versatility
Shoes are an essential component of every man's wardrobe. They serve a functional purpose and make a statement about your style and personality. With so many options available, finding a pair of men's shoes that goes well with everything in your wardrobe can be challenging. However, there are some styles that you can rely on to work with anything. Let's take a closer look at the shoes that work with anything and why they are so versatile.
Derbies
Derbies are a classic style of men's shoes that have been around for centuries. They are versatile and can go with both casual and formal outfits. Derbies have an open lacing system, which makes them more comfortable to wear than oxfords. They also come in various colors, from black and brown to burgundy and navy.
Oxfords
Oxfords are the go-to shoes for formal occasions. They have a closed lacing system and often consist of high-quality leather. Oxfords are also available in numerous colors, with black and brown being the most common. They are sleek, elegant, and timeless, making them an excellent investment for any man's wardrobe.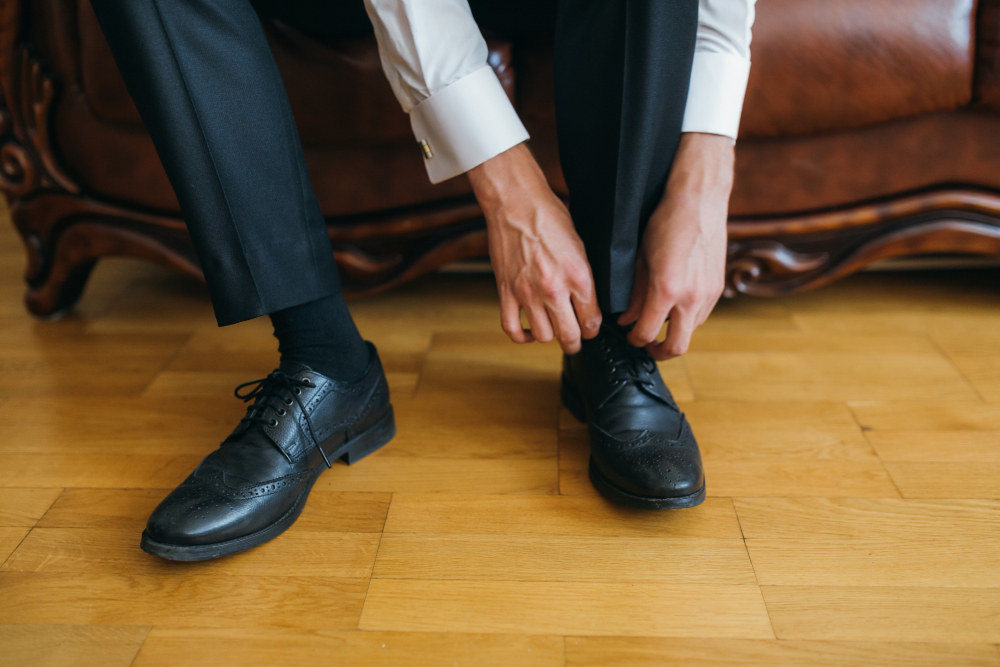 Sneakers
Sneakers are the ultimate casual men's shoe. They are comfortable to wear and go with just about anything. Whether you're wearing jeans or shorts, sneakers can add a touch of cool to any outfit. Sneakers also come in various patterns and colors, so you can easily find a pair that fits your style.
Loafers
Loafers are classic men's shoes that hold immense popularity. They are slip-on shoes with no laces and comprise leather or suede. Loafers are perfect for casual occasions, but one can also wear them with a suit for a more formal look.
Brogues
Brogues are a type of shoe that has decorative perforations on the toe and along the seams. They are available in various styles, including wingtip and cap toe. Brogues are versatile and go well with both casual and formal outfits.
Boat Shoes
Boat shoes are a summer staple. They are comfortable, casual, and perfect for a day on the water. Boat shoes are often made of leather or canvas and come in various colors. They are also slip-resistant, making them an excellent choice for any activity near the water.
Desert Shoes
Desert shoes are men's shoes that were designed initially for the military. They are comfortable, durable, and perfect for outdoor activities. Desert shoes are often made of suede and arrive in several colors. They are also lightweight, making them ideal for travel.
Ankle and Chelsea Boots
Ankle and Chelsea boots are versatile; you can wear them casually and formally. Ankle boots are shorter than Chelsea boots and often have a more casual look. Chelsea boots, on the other hand, are taller and sleeker, making them perfect for dressier occasions.
A List Revealing More Options for Men's Shoes
In addition to the shoes listed above, several other boot types are versatile and go with almost anything. Monk straps, balmorals, wingtips, and double monks are all excellent choices for men who want to add variety to their shoe collection. Sandals and dress boots are also worth considering, depending on your preference.
Step into Style: Find Your Perfect Pair of Shoes Today!
When it comes to men's shoes, versatility is vital. Investing in a few pairs of shoes that work with anything can save time and money while looking stylish and put together. Whether heading to the office, going out on a date, or running errands around OKC, you can feel confident knowing that your shoes will complement your outfit.
Allton's Clothiers believes a good pair of shoes is essential to any man's wardrobe. That's why we offer a wide selection of high-quality men's shoes that are both stylish and functional.
Whether you're in the market for a new pair of derbies, oxfords, sneakers, loafers, brogues, boat shoes, desert shoes, ankle or Chelsea boots, we have you covered. Our collection of men's shoes features top brands and designers, so you can trust that you're getting the best quality and style.
At Allton's Clothier, we also believe in providing exceptional customer service. Our knowledgeable staff is always happy to assist you in finding the perfect pair of shoes to match your style and needs. Whether you're looking for a classic pair of oxfords for a formal event or a pair of sneakers for a weekend getaway, we are here to help.