Men's Dress Shoes: A Beginner's Guide to Complete the Look
Whatever you are wearing, your look remains incomplete without the perfect shoes. That is why, as a man, you should own at least a few pairs of men's dressing shoes. But how to select what shoes to buy or wear that perfectly matches with your attire? If this question is hunting you, the following article will help you greatly. After reading this article, you will be able to make your own decisions and buy the perfect shoes that complement your dress.
A good pair of dress shoes look good in any given situation. If not anything, it lets you take that brownie point at a wedding or a party. You should study this list and buy at least one pair for such special occasions. These are some of the most popular dress shoes that can help you achieve the perfect look whenever you go out next time.
The Different Types of Men's Dress Shoes
Oxfords
Black can stylize almost everything. That is why countless people prefer to wear a pair of simple black oxford dress shoes. It is undoubtedly one of the simplest designs of any pair of men's shoes. It is a pair of simple, low-cut shoes with a shiny black outer body. This very old-school and classic design originated from the students of Oxford University. That is the reason they are called Oxfords.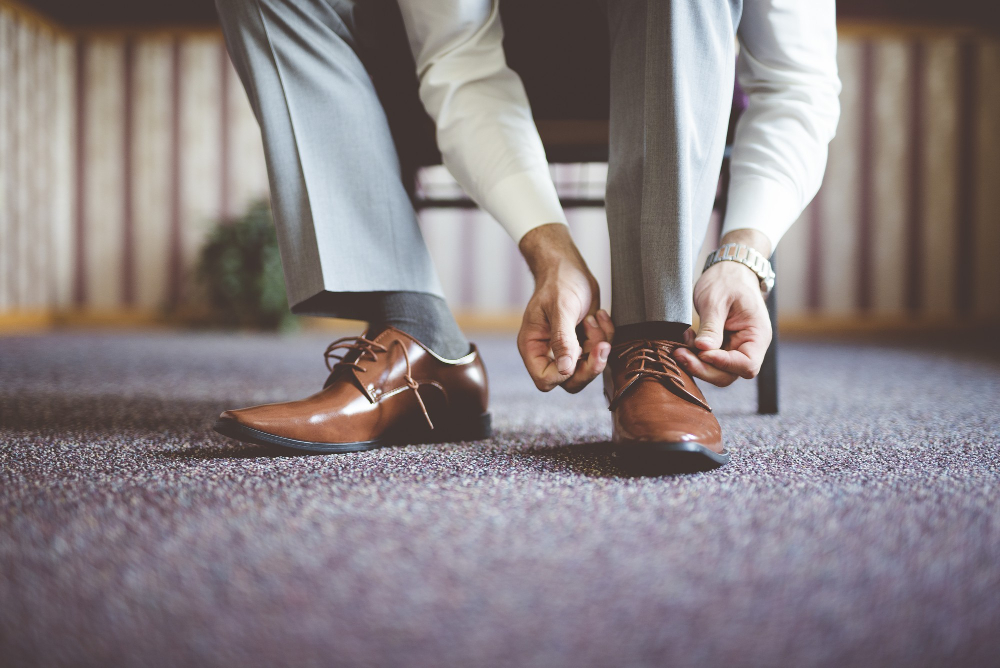 The Oxford is a multipurpose design that you can wear almost anywhere. From an office meeting to a wedding or a funeral, wherever you go, this shoe will help you complete your appearance as a gentleman.
Derbys
From the first look, you wouldn't even be able to recognize a derby if you try to compare it with an Oxford. But there is one major difference between these two shoes. The Oxford is a design that is created from a whole-cut piece of leather. At the same time, the toe cap of a derby is cut and stitched separately. This adds a lot of aesthetics to the design.
Derbys are usually worn in casual environments. But if you wish to wear them on formal occasions, you can do that as well.
Monk Straps
Monk straps are very uniquely designed men's dress shoes. It is a leather-cut design that is worn using a strap instead of tying laces. This makes it easy and comfortable to wear yet looks cooler than everyone else at the party.
Monk straps are also made for casual gatherings.
Loafer
How can you make a strapped shoe more comfortable and easily wearable? By removing the strap, of course. The loafers were created keeping this thought in mind. If you remove the straps from a monk strap dress shoe, you will get a loafer. It is a unique type of shoe that is very easy to put on yet looks fabulous.
Wear these shoes to your dates or casual gatherings to make your friends' jaws-dropped.
One Solution to Your Suiting Needs
Now you know about the shoes that can help you look good. But where would you find these shoes? The answer is Allton' Clothier. We are one of the largest distributors of men's dress shoes in OKC. Not just that, we provide other suiting items as well. No matter what your clothing needs are, we have got you covered. So, do not waste your time and get in touch with us to get the best suits to polish up your look.