Learn More about the Difference between Tuxedo and a Suit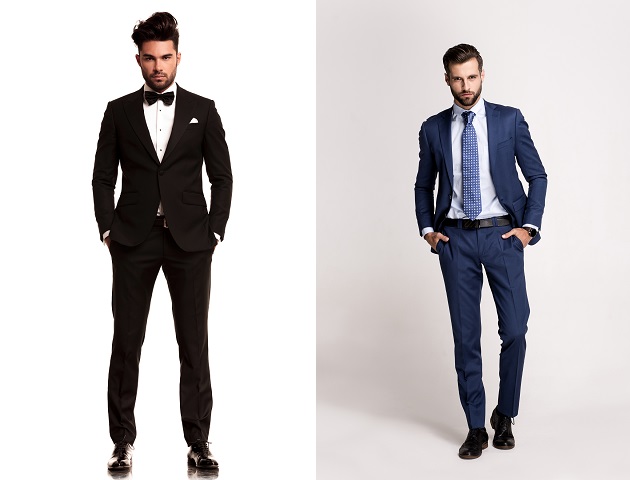 Everyone knows that there is a difference between a tuxedo and a suit. But it's not always possible to detect that at first glance. It's uncommon for us to see people calling everything a suit. If you're preparing yourself for a big occasion, you may be curious to know what should be the right choice. Since both of them are made up of a combination of jacket, dress pants, ties, shoes and other accessories, you may find it pretty tough to decide what to choose. If you're looking for suits in OKC, this article will help you find out the difference between a suit and a tuxedo.
Differences between a Tuxedo & a Suit
When it comes to the physical difference, satin is what makes a tuxedo different from a suit. Normally, tuxedos have satin facing on button, pocket trims and on the lapels. But suits on the opposite side don't incorporate satin. If you're looking for a tuxedo in OKC, visit your nearby garment store.
There is a difference in standards of wearing traditional black ties. Although the concept of wearing an appropriate tie has been blurred in modern days, there is something to look at. Historically speaking, people wear bow ties with tuxedos, whereas long ties are an appropriate look for suits. If you are in OKC and want to learn more about modern and traditional suits in OKC, you should consider visiting a nearby clothing store.
When it comes to jackets, there are two ways a suit jacket is different from a tuxedo jacket. In suit design, it uses a casual nothing notch lapel. But when it comes to a tuxedo suit, which is more formal, it uses peak lapels.
If you observe it deeply, you will be able to understand that both a tuxedo and a suit sends different messages. According to the traditional lifestyle, no one will feel strange if a person wears a suit and goes to the grocery store. But if a person wears a tuxedo and goes to the grocery store, this will be strange since it's rare. Tuxedos are generally for occasions like weddings and other ceremonies, whereas suits can be used for both casual and occasional use. Find a nearby clothier to learn more about tuxedos in OKC.
Whether you're looking for a suit or a tuxedo, Alton's Clothier is what you need. It's been operating proudly for 25 years. Our staff at Alton's Clothier work consistently to provide best individual fit. Attention and details are what is always on the top of our mind. Visit us today.