Have a Classic Wedding with These Attention Grabbing Shoes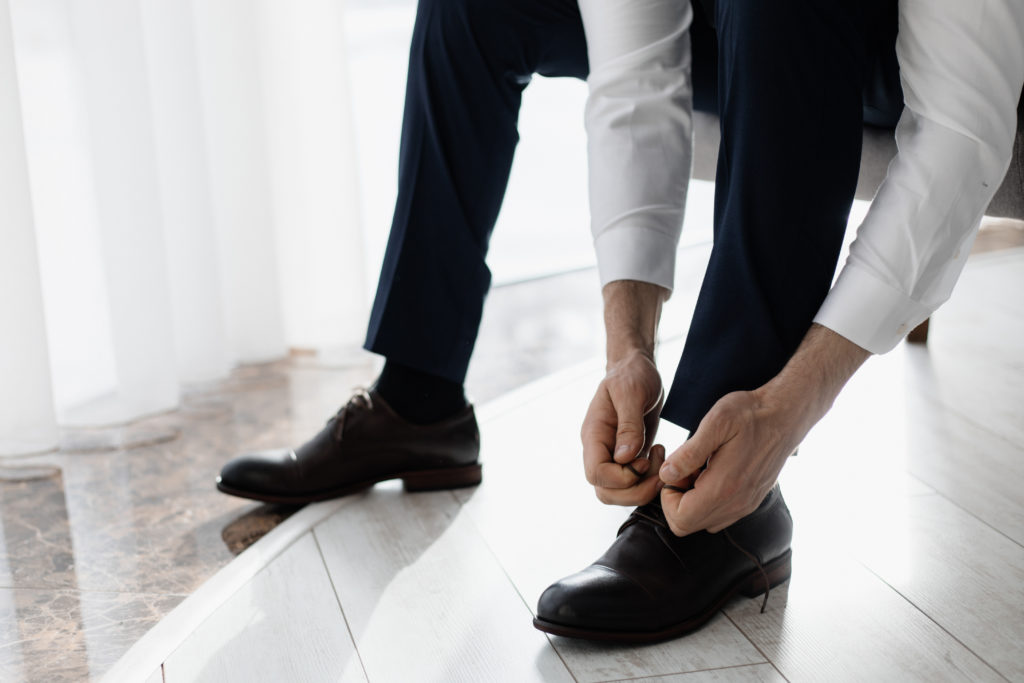 Finding the perfect pair of wedding shoes is essential for any groom-to-be. The right shoes complete your ensemble and ensure comfort throughout the big day. This guide will explore the important considerations Oklahomans need to emphasize before deciding on men's wedding shoes. So, whether you prefer classic elegance or contemporary style, let's dive into wedding footwear.
What Helps You Choose the Right Shoes- Crucial Considerations
Comfort should be a top priority when choosing wedding shoes. Remember, you'll be on your feet for hours, greeting guests, dancing and enjoying the festivities. Look for men's shoes with ample padding, cushioning and proper arch support. Opt for materials that allow breathability, reducing the chances of sweaty or uncomfortable feet.
Consider the overall style and formality of your wedding when selecting shoes. Traditional dress shoes like Oxfords or Derby shoes in black or patent leather are suitable for a black-tie event. A semi-formal or casual wedding may allow for more flexibility, allowing you to explore loafers, brogues or even stylish boots. Coordinate the shoe style with the theme and aesthetics of your wedding for a cohesive look.
When it comes to color, the most classic choices are black and brown. Black shoes are timeless and versatile, while brown adds warmth and a touch of personality. Ensure that the shoe color complements your wedding attire. Additionally, pay attention to the material. High-quality leather is famous for its durability, elegance and ability to mold to your feet. Suede or velvet can add texture and sophistication to your ensemble.
Ill-fitting men's shoes can cause discomfort and distract you from enjoying your special day. Prioritize finding the right fit by measuring your feet and using accurate size charts. Remember that different brands may have slight variations in sizing. It's advisable to try on multiple pairs and walk around to ensure a snug yet comfortable fit. Avoid shoes that are too tight or loose, as both can lead to discomfort or blisters.
Investing in well-crafted, high-quality wedding shoes is worthwhile. Quality shoes not only look better but also provide long-lasting comfort. Examine the construction and stitching to ensure durability. Check for a sturdy sole and consider resole options for extended use beyond the wedding day. Remember, men's wedding shoes can become cherished keepsakes or suit well on other special occasions in the future.
Take into account the weather conditions on your wedding day. If you're getting married outdoors or in warmer climates, consider shoes with breathable materials to prevent excessive sweating or discomfort. For rainy or winter weddings, opt for water-resistant shoes or feature suitable traction to avoid slipping. Be practical while maintaining style.
Small details can elevate the overall look of your wedding shoes. Consider embellishments such as broguing, perforations or decorative stitching. Pay attention to the type of lacing, whether traditional, sleek or more elaborate. Add personal touches like customized monograms or initials for a unique and memorable touch.
When choosing men's wedding shoes, it's essential to consider the color of your suit. If you're wearing a black suit, black shoes are the most traditional and classic choice. They create a cohesive and elegant look. However, if you're wearing a navy or gray suit, you have more flexibility in your shoe color selection. Brown shoes, such as oxfords or brogues, can complement these suit colors beautifully. Just ensure that the shades of brown and gray/navy harmonize well.
The style of your suit can also influence your choice of wedding shoes. For a formal or black-tie wedding, a tuxedo or a classic black suit with a black bow tie, white dress shirt and black cummerbund or vest is customary. In this case, black patent leather shoes are the most appropriate choice. If your wedding has a more relaxed or semi-formal dress code, you can choose a different color or fabric suit. For instance, a light gray or tan suit allows for more versatility in shoe color options.
6 Best Men's Shoes for Wedding- Prioritize Comfort & Style Simultaneously
Oxford
Classic and timeless shoe style suitable for formal weddings
Closed lacing system with a sleek and elegant appearance
Typically made of high-quality leather with a polished finish
Offers excellent support and comfort with a sturdy construction
Versatile and can be worn with various suit styles and colors
Chukka Boots
Stylish and versatile option for both formal and semi-formal weddings
Ankle-high boots with two or three eyelets for lacing
Often made of suede or leather, providing a sophisticated look
Comfortable and offers good traction with a rubber sole
You can pair it with suits or more casual wedding attire for a modern twist
Cap Toe Derby
Elegant and versatile shoe style suitable for both formal and semi-formal weddings
Features a toe cap with decorative stitching across the toe area
It provides a sophisticated and polished appearance
You can find it in various materials such as leather or suede
Offers comfort and flexibility with a lace-up closure
Penny Loafer
A stylish and comfortable option for semi-formal or casual weddings
Slip-on style shoe with a distinctive strap across the front and a coin slot
It can consist of leather or suede, offering a relaxed yet refined look
It provides ease of wear and comfort without sacrificing style
Pair well with lighter-colored suits or more relaxed wedding attire
Double Monk Strap
A unique and fashionable choice for both formal and semi-formal weddings
Features two straps with buckles across the upper instead of laces
Adds a touch of sophistication and individuality to your ensemble
It comes in leather or suede, with different buckle designs
Works well with a variety of suit styles, adding a modern twist
Black Tuxedo Shoes
Designed explicitly for black-tie or formal weddings
Typically made of patent leather for a high-gloss finish
Features a sleek and minimalist design with a closed lacing system
Matches perfectly with black tuxedos or formal attire
Provides a refined and polished look, completing a classic formal ensemble
Ace Up Your Wedding Game
End your search with Allton's Clothiers if you are looking for men's shoes in OKC. Your wedding game will pace up when you come to us and check our stock. We have a wide range of collections that will make you go wow in just one glance. Then, what are you waiting for? Visit us today!