From Brogue to Oxford: Finding the Perfect Pair of Shoes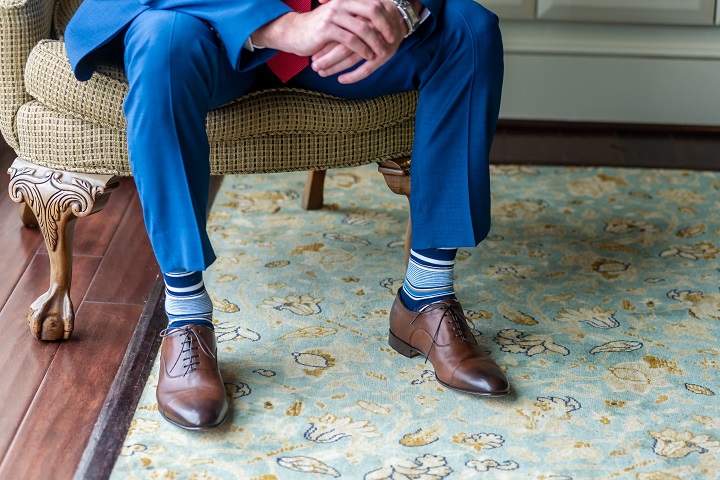 Is a well-fitted suit enough to make you stand out when dressing up for a special occasion? You must pair it with the right shoes to complete your look. Men's dress shoes in OKC have been a fashion staple for centuries and are essential to every man's wardrobe. They make you look more professional and polished and add a touch of sophistication to your outfit.
A Few Things to Know About Men's Dress Shoes
Let's take a moment to discuss the appropriate material for dress shoes and dig into the shoe's anatomy.
Appropriate Material for Dress Shoes
Leather is the most common and appropriate material for men's dress shoes. It's durable, breathable and looks sleek.
Patent leather is also in demand for formal events, but you should only reserve it for black-tie occasions.
Shoe Anatomy
It is the bottom of the shoe that provides traction and support.
This part of the shoe covers the top of your foot.
The back part of the shoe lifts your foot off the ground.
The material inside the shoe is the lining, providing comfort and absorbing moisture.
It is the cushioned layer between the sole and the lining.
It refers to the shoe's upper part that connects to the quarter.
The shoe quarter is part of the shoe that covers the heel and sides of the foot.
It is part of the shoe that covers the top of the foot and extends from the toe box to the shoe collar.
What Types of Men's Dress Shoes Are Available?
Dress Boots are a versatile option worn with suits and casual wear.
When looking for a more casual option, chukka Boots are perfect for casual events.
The opera pump is a formal shoe typically worn with a tuxedo.
A sleek and stylish option is a Chelsea boot to dress up or down.
Loafer is a slip-on style that can be dressed up or down, with various types like Penny, Tassel, Gucci, Horsebit etc.
Blucher is a more casual option for casual business events.
Brogue boots are here to your rescue when looking for a stylish option with decorative perforations. It is available in various types like Wingtip, Quarter, and Long Wing.
Monk Straps are a unique style with buckle closure, available in various types like Single, Double, and Cap-Toe.
A classic and timeless option with closed lacing is Oxford shoes.
Derby shoes are another casual option with an open-lacing system.
Color Choices for Dress Shoes
Black is the most formal and versatile color that matches most suits.
Burgundy or oxblood is a stylish and trendy color that goes well with navy, gray and brown suits.
A more casual option is dark brown, which pairs well with earthy tones.
A summer-friendly option is light-brown, which goes well with light-colored suits.
These two colors are timeless and classy and perfect for summer events.
Which Is Better: Open Lacing or Closed Lacing?
Open Lacing
More casual and less formal than closed lacing.
Allows for more adjustment and comfort.
Generally seen in Derby shoes and Blucher shoes.
Closed Lacing
More formal and sleek than open lacing.
Provides a snug fit and a cleaner look.
Generally seen in Oxford shoes.
Define the Toe Type
You can achieve a formal style with a decorative cap on the toe.
It is a stylish option with a "W" shape on the toe.
Plain toe is a classic and timeless option with a simple, unadorned toe.
A medallion is a decorative perforation or stitching on the toe.
A bicycle toe looks stylish with a distinct seam that runs around the toe.
Conclusion
Now that you know everything about the best mens dress shoes, it's time to put your knowledge into practice and find the perfect pair to match your suit. Remember, the right pair can make or break your outfit, so invest in a high-quality pair that will last you for years.
Allton: Men's Fashion Store
Head to Allton's Clothiers, where you'll find a wide selection of men's dress shoes in OKC. Our knowledgeable staff will help you find the perfect pair that matches your style and budget.
Whether attending a black-tie event or a business meeting, invest in high-quality shoes that will make you look and feel your best.
We add a touch of sophistication and style to any outfit and with the wide range of styles, colors and materials available, there's a perfect pair for every occasion.