Exploring the Most Significant Difference Between the Blazer and the Suit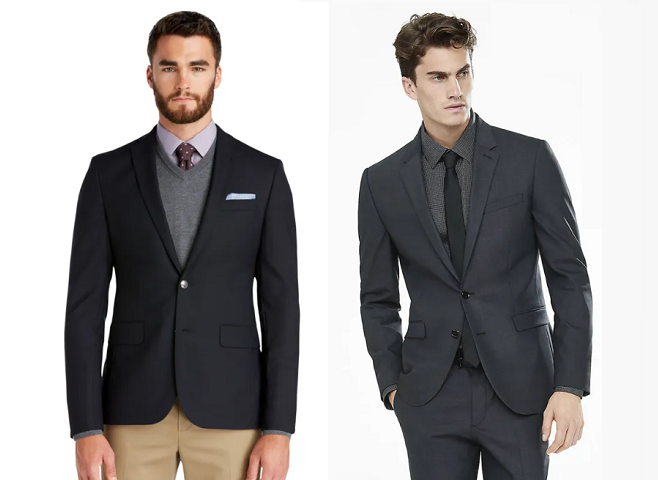 There has been significant modernization in men's clothing these days. With the end of the 14th-century emerged the reliability of suits. These apparels denote a set of garments comprising trousers and a jacket. On the contrary, blazers look like a suit jacket but sometimes consist of metal buttons and flap-less patch pockets.
In OKC, men are always looking for ways to upgrade their fashion trends. One such way is to rely on the best quality men's suits. One of our clients was struggling with fitting issues and needed professional assistance. But after taking our services, he got something more than satisfaction and perfect fittings. Let us now explore the difference between suits and blazers.
Perceiving the Suit Facts
Men usually wear suits with a necktie and a shirt. Some of them also wear waistcoats in the case of a three-piece jacket and suit. Blazers, on the other hand, give a casual appearance. Furthermore, one can mix and match these with contrasting jeans and trousers.
In OKC, following a proper dressing style for an event seems crucial. Men get an option to choose between blazers and suits. The latter arrives in two-and three-piece variants; the two-piece comprises trousers and a coat, whereas the three-piece introduces a waistcoat. The tailoring of men's suits takes place as per the fittings and requirements.
These garments witness mass production and demand minor alterations. The selling of suits occurs in 3 ways: made to measure, bespoke, and ready-to-wear. Manufacturers make the bespoke suits from scratch, allowing an appropriate fitting. Made to measure comes with pre-made patterns to satisfy the client's needs. However, ready-to-made ones are available for purchase and may require some trouser adjustments.
Exploring the Blazer Side
Blazers seem to be heavier than the suits and act as outdoor jackets. One can pair these with casual shirts. You can get double-or single-breasted blazers based on your style preference. A lot of men in OKC consider these apparel as business casual wear.
Contemplating the Primary Difference
You can notice the significant difference between the two as per the occasion and their usage. Although men prefer blazers in casual business get-togethers, suits seem to win hearts in various formal events such as functions, weddings, and business meetings. If you pay attention to class, convenience, and versatility, nothing will please you more than the best quality men's suits.
Wear the Breathtaking Confidence
Allton's Clothiers ensures you the best possible experience in terms of fittings. We have 27 years of experience prioritizing clients' needs and paying utmost attention to detail. Give yourself the confidence of exceptional fitting!