Dress to Impress: Mastering the Art of Office Elegance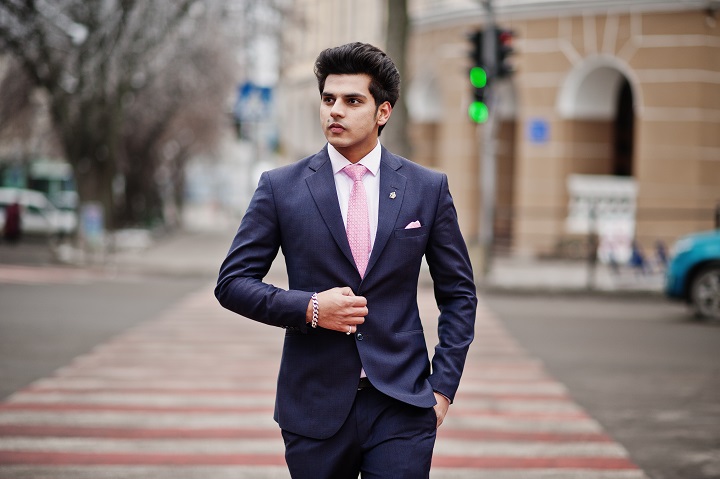 In a bustling metropolis, where the concrete jungle meets the realm of corporate suits and ties, a man embarked on a sartorial journey that would shape his professional identity. Every morning, he stood before the mirror, meticulously selecting the pieces that would become his armor of confidence and authority. With a keen eye for detail, he navigated the labyrinth of men's formal wear, ensuring each element harmonized seamlessly.
From the crisp, tailored shirts that whispered sophistication to the perfectly fitted trousers that exuded competence, he crafted his image with a purpose. As he adorned himself with an elegant overlayer, the weight of responsibility settled on his shoulders, imbuing him with an air of command. A carefully chosen tie, a subtle expression of personal style, completed his ensemble. The right accessories, like polished armor, added the finishing touch to his professional attire. And as he slipped into his meticulously polished leather shoes, he knew he was ready to conquer the business world, stride by confident.
Shirts that Mean Business: Dressing to Impress
The foundation of any professional outfit is a well-fitted men's formal shirt. Opt for classic colors like white, light blue, or subtle stripes to create a sophisticated look. Ensure the shirt fits you properly across the shoulders and does not bunch up around the waist. Remember to tuck your shirt in for a polished appearance, and if you want to add some personality, consider accessorizing with a stylish tie or a pocket square.
Trousers: Your Secret Weapon for Workplace Success
When choosing trousers for your office ensemble, choose tailored options that fit and flatter your body shape. Stick to traditional colors such as black, navy, or gray, as they are versatile and appropriate for most business settings. Avoid excessively baggy or tight-fitting pants, which can give off an unprofessional vibe. Additionally, ensure that your trousers are properly hemmed to the right length to avoid any unsightly bunching at the ankles.
Layer Up, Boss: The Power of Overlayer Clothing
In OKC's business environment, layering can be a practical and stylish way to navigate temperature fluctuations. Invest in a well-tailored blazer or suit jacket that complements your shirt and trousers. This versatile piece can instantly elevate your look, adding sophistication and authority. Choose a blazer in a classic color like charcoal or navy, and make sure it fits comfortably across your shoulders and chest. You can search for 'trending men's formal wear near me' to get more ideas.
Tie Breaker: How to Knot Up Your Office Style
A tie is an essential accessory for men's formal wear, adding a touch of elegance and professionalism to your outfit. When selecting a tie, consider the occasion and dress code. In OKC, opt for a conservative approach with solid-colored or subtly patterned ties. Avoid overly loud or novelty designs that may distract from your overall professional image. Coordinate your tie with your shirt and suit for a cohesive and polished appearance.
Accessorize Like a Pro: Elevate Your Office Swagger
Accessorizing can take your office attire to the next level. Invest in a quality leather belt that matches the color of your shoes. This small detail may seem insignificant, but it can significantly affect your overall look. Additionally, consider adding a sophisticated watch or a pair of cufflinks to showcase your attention to detail and style. Remember, less is more when it comes to accessories, so choose them wisely and avoid going overboard.
Stepping Up in Style: The Footwear Formula for Men's Formal Wear
The right pair of shoes can make or break your professional look. Invest in comfortable, high-quality leather shoes that match your outfit's formality. In OKC, classic oxfords or brogues in black or brown are popular choices for men's formal wear. Ensure your shoes are clean, polished and in good condition to create a positive impression. Pay attention to the details, such as wearing the appropriate socks that match your trousers.
Elevate Your Style with Allton's Clothiers: Where Fashion Meets Professionalism!
Step into the world of unparalleled style with Allton's Clothiers. Discover a meticulously curated collection of men's formal wear in OKC that embodies sophistication and elegance.
Our expertly crafted garments will elevate your professional image from tailored shirts to impeccable trousers.
Whether attending a crucial meeting or commanding the boardroom, we have everything you need to make a lasting impression.